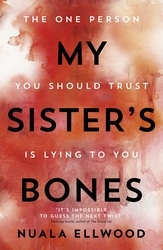 My Sisters Bones by Nuala Ellwood 4*
My review:
I found this novel to be a slow burner, the first 80% of the story gives you an expansive background history of all the central characters. Kate, Sally, Paul & Hannah are all characters of substantial depth. Kate is a reporter specialising in war torn countries specifically Syria. This is noted throughout the novel in detail and is unique and very well written. Sally is her alcoholic sister who's life has fallen apart. The plot entwines the sisters stories and their past traumas.
For me the absolute shocker was the last 20%, an ending that comes bulldozing in from nowhere and blew me away! The ending is expertly clever, I never saw it coming and I read this book in one sitting!
This novel is for the readers who enjoy layers upon layers of detailed characters and a killer twist in the a tale.
The Blurb:
ARE YOU BRAVE ENOUGH TO GO BACK?
Kate Rafter is a successful war reporter. She's the strong one. The one who escaped Herne Bay and the memories it holds. Her sister Sally didn't. Instead, she drinks.
But when their mother dies, Kate is forced to return to the old family home. And on her first night she is woken by a terrifying scream.
What secret has Kate stumbled upon?
And is she strong enough to uncover the truth . . . and make it out alive?